In this period of uncertainty, it is likely that our goals for poverty reduction will change and priorities will shift. The public health crisis has, in many ways, exacerbated and accelerated many gaps in the social support system, making our goals for poverty reduction even more relevant – for example, affordable housing. Over the past year Vibrant Communities Calgary (VCC) has been engaging Enough for All stakeholders to map out policy priorities and identify leads. Although we understand some of this work will no longer be relevant in a post COVID environment, it's important to know where we started from, before we begin to shift.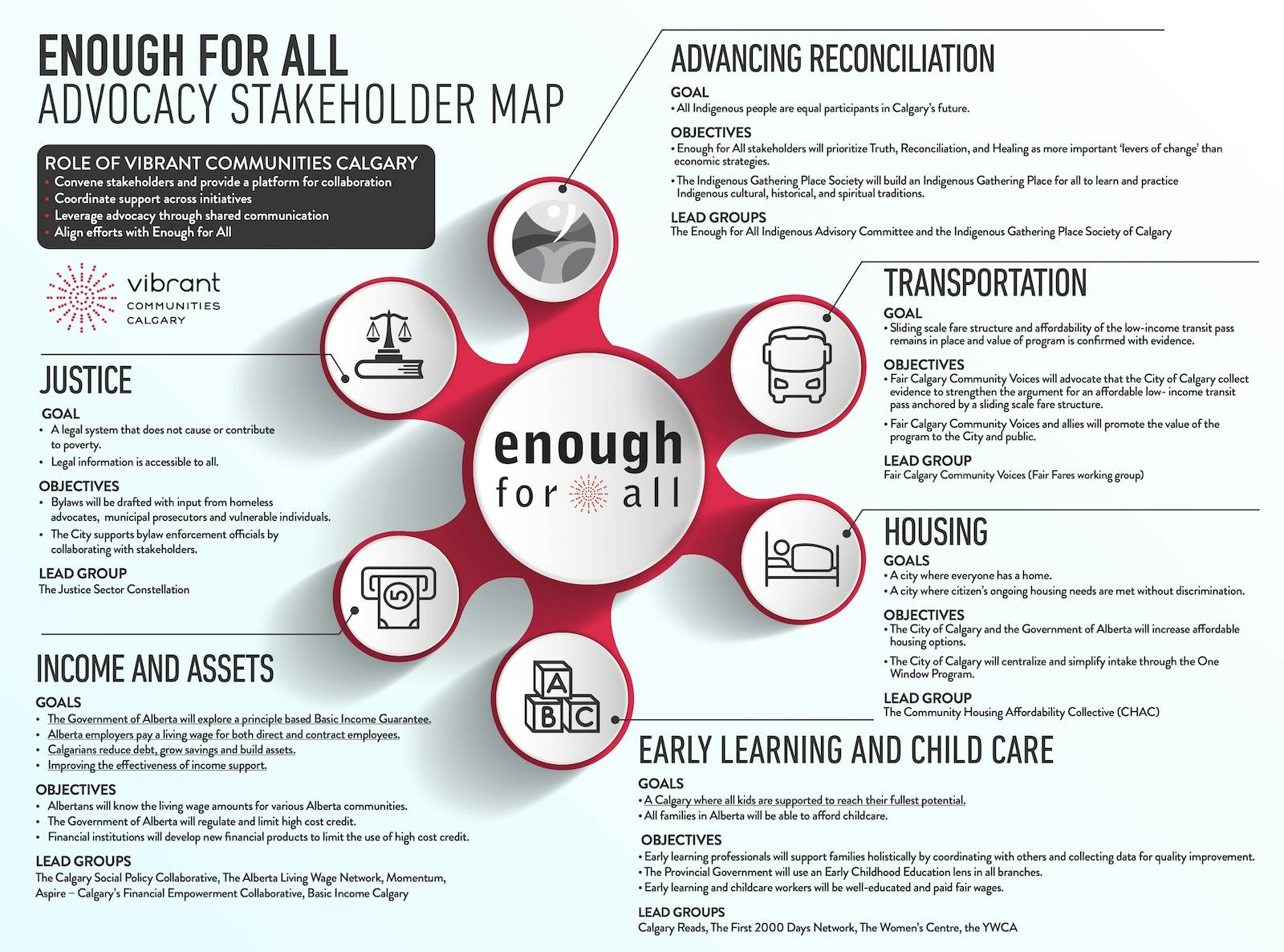 We would like to acknowledge that Enough for All champions such as Fair Calgary Community Voices, Calgary Reads, and the Justice Sector Constellation, to name a few, have been working hard on implementing the Enough for All strategy since its inception. As a backbone organization VCC supports these groups by:
Convening and providing coordination and support
Utilizing communication channels to leverage advocacy efforts
Helping to connect and align with other Enough for All activities
What we mean when we say "root causes" and what makes these advocacy goals so important is that they are focused more on prevention than intervention. That's what we're striving for with Enough for All. We would like to share our unique bird's eye view of these activities through this Enough for All stakeholder map and infographic.
Advocacy and the advancement of policy are important approaches to poverty reduction and a key backbone role of VCC. We would like to encourage Enough for All champions and stakeholders to continue to share information on identified policies and advocacy goals so that we can help support their advancement. Recognizing that the infographic is not a comprehensive list of Enough for All advocacy, we encourage those who are looking for additional details to get in touch with VCC as we have compiled a detailed summary of advocacy goals, objectives, and supporting research.
To connect with VCC about policy and advocacy, please contact Lee@vibrantcalgary.com.